Got a Gripe? A Thought? A Complaint? A Suggestion? A Question? Want to contribute to this site or even take over this site? (everything except the taking over this site part is basically free)
Please let me know
By submitting any type of file to this site or to me in any form, you hereby grant me, or anyone representing me, an unrestricted, transferable and sub-licensable, irrevocable,
royalty-free, world-wide, and perpetual license to reproduce, distribute, publicly display, make derivative works of, and otherwise use any contributed files, photographs graphics etc. for my personal and/or commercial purpose in my discretion, including without limitation in any kind of media whatsoever now known or later invented throughout the world. You hereby disclaim any right to any compensation from me in connection with my exercise of its license rights in and to the contributed files, photographs graphics etc. you have submitted to me. You acknowledge and agree that I am under no obligation of confidence to you, and shall not be liable for any use or disclosure of any contributed files, photographs graphics etc. . By submitting the contributed files, photographs graphics etc. , you represent and warrant that first of all you own the copyright of
the contributed files, photographs graphics etc.
or that you have a legitimate license to post files without any restrictions whatsoever; and/or you have obtained all requisite releases. I reserve the right to review any contributed files, photographs graphics etc. and remove, delete, redact, or otherwise modify such material, in
my discretion, at any time and from time to time, without notice or further obligation to you. I have no obligation to publish, display, or post any contributed files, photographs graphics etc. . I reserve the right to disclose, at any time and from time to time, any information contributed that I view as necessary to abide by any law, regulation, contractual obligation, legal, dispute process, or governmental request. "Trash talk" on any of my forums or feedback columns is subject to being promptly deleted.

Please go to my Facebook site and make yourself known there or I can also be emailed at walter@lullencycle.com .


© 2010 - 2011 by Walter E. Parrish. All Rights Reserved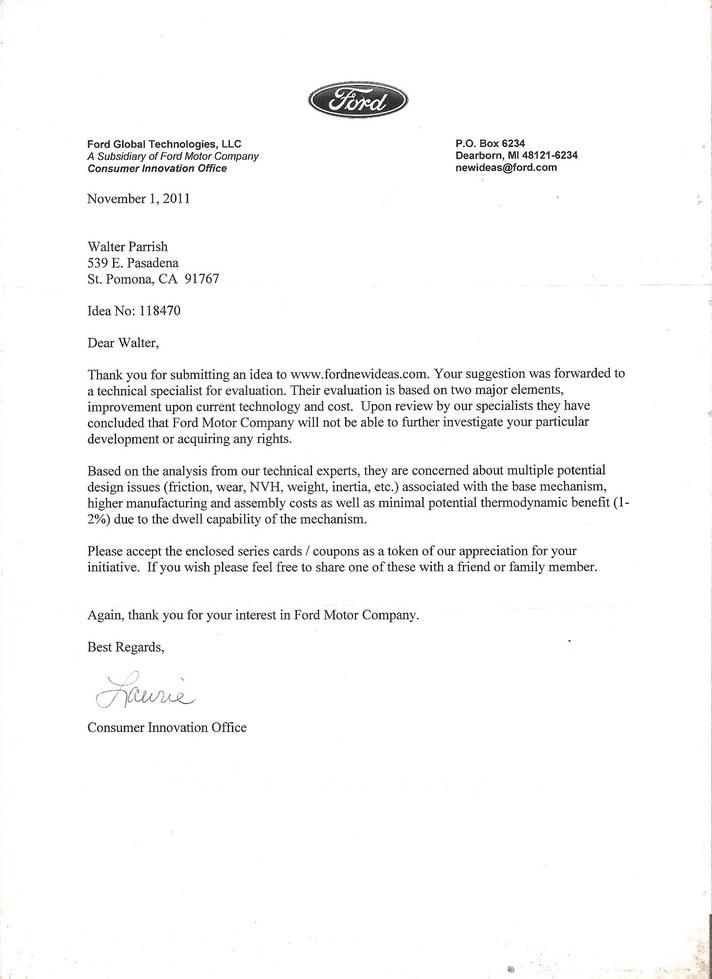 The following letter was in response to my submitting the Lullencycle concept to Ford Motor Company's idea submission program. There are presumably well educated individuals that have investigated the Lullencycle concept and for all I know, possibly put it through some sort of computer simulation.
In brief, There has already been some experts in internal combustion motors that have studied the Lullencycle concept as described here and have given it the
proverbial "thumbs down".